5TH NOVEMBER 2015>>>GLASGOW GIG!
OUR LOVE WILL DESTROY THE WORLD
OPAQUE
THE CLOUD OF UNKNOWING
NICE N SLEAZY, GLASGOW, 22ND NOVEMBER, DOORS 7:45
£6 Adv (from music glue) / £8 OTD
15TH MARCH 2014>>> GIG!
Stephen O'Malley
ALUK TODOLO
Opaque

THE ART SCHOOL
20 SCOTT STREET
GLASGOW
8TH April
19:30
£8 GSA / £10 ADV
15TH JULY>>>
NEW OPAQUE RELEASE ON KOVOROX SOUND
OPAQUE - SECRET DOMAIN OF GIANT CENTIPEDE
2ND APRIL>>>
GLASGOW GIG!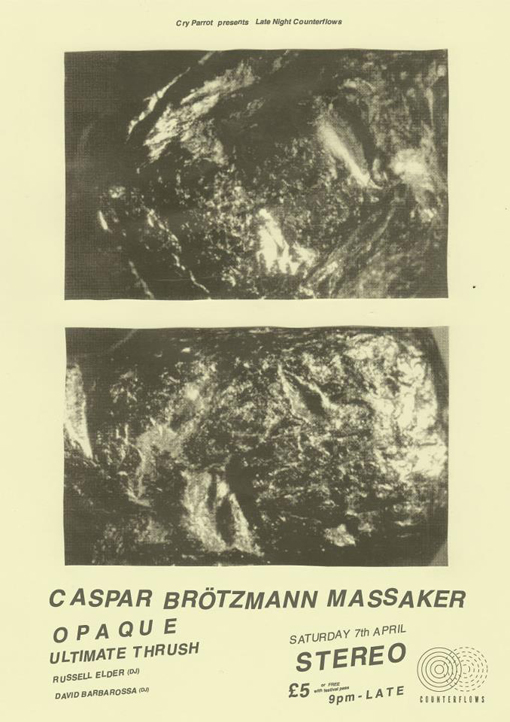 10TH FEBRUARY>>>
NEW RELEASE!!!
3RD JANUARY 2012>>>
OPAQUE GIG IN GLASGOW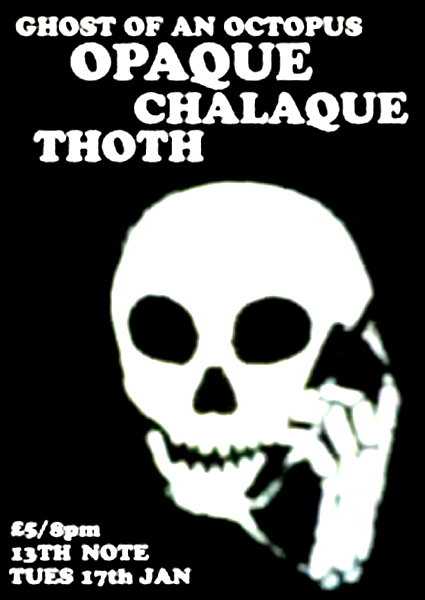 15TH AUGUST 2011>>>
OPAQUE WILL PERFORM ON SUNDAY 4TH SEPTEMBER AT 7:30 AT SWG3 STUDIO WAREHOUSE AS PART OF THIS EVENT...
Cry Parrot and Tracer Trails present
MUSIC IS THE MUSIC LANGUAGE
A brand new independent music festival for Glasgow
3rd-4th September 2011
at SWG3 (Studio Warehouse) + various venues
Tickets available for £10 (weekend) or £6 (day) from http://www.wegottickets.com/f/2653 or Monorail Music
-----
Acts already confirmed for the festival include:
Alasdair Roberts
Ben Butler & Mousepad
Blue Sabbath Black Fiji
Correcto
Cut Hands (William Bennett of Whitehouse)
Divorce
Falconry
Gummy Stumps
Moon Unit
Muscles of Joy
Nackt Insecten
Opaque
Richard Youngs
Sad City
Sarah Kenchington
Tattie Toes
The One Ensemble
Two Wings
Ultimate Thrush
Usurper
Volcano the Bear
Vom
Withered Hand
and Wounded Knee
But thats not all...
+ OFF-SITE PERFORMANCES during the day in locations to be revealed nearer the time!
+ AFTERPARTIES!
+ FILMS, STALLS AND GREAT FOOD!
Scottish music has surely never been more diverse, curious, and fun than it is right now! To celebrate all that's exciting and ambitious in Scotland's underground music scene, non-profit independent promoters Cry Parrot and Tracer Trails are teaming up this September to bring you Music is the Music Language, a two-day festival taking place across three stages in Glasgow multi-arts establishment SWG3.
Both promoters have made their mark through their eclectic remit, providing Glasgow and Edinburgh with a wealth of leftfield and experimental talent, opening up new spaces for live music across both cities. Music is the Music Language will centre on SWG3's awesome renovated warehouse space, making full use of the venue's many nooks and crannies, with off-site performances during the day in locations to be revealed much nearer the time.
2ND APRIL 2011>>>
RARE OPAQUE PERFORMANCE!!!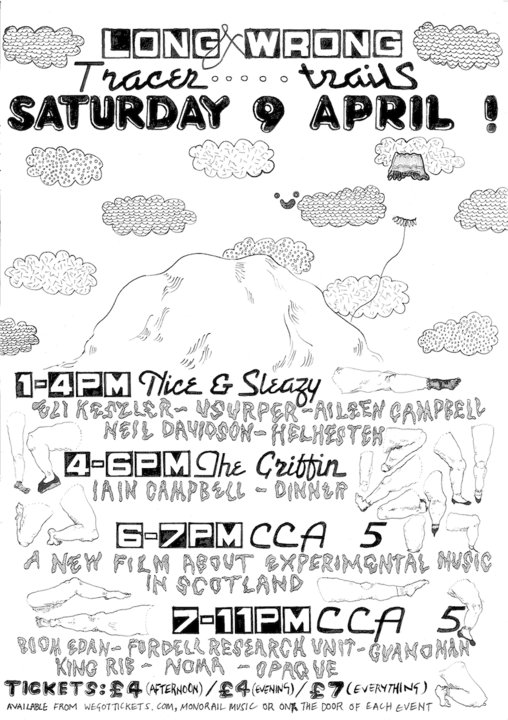 7TH AUGUST 2007>>>
OUT NOW
OPAQUE - THE CULT OF SURVIVORS
PLUS...
GIG!
ASHTRAY NAVIGATIONS, OPAQUE, NACKT INSECTEN, KITCHEN CYNICS
THE TUNNELS, ABERDEEN, SATURDAY 11TH AUGUST
29TH JUNE 2007>>>
COMING SOON..!
OPAQUE - THE CULT OF SURVIVORS
4 DISK SET OF UNRELEASED LIVE AND STUDIO TRACKS 1997- 2007 RELEASED BY KOVOROX SOUND...
24TH JANUARY 2007>>>
NEW OPAQUE RELEASE AVAILABLE NOW ON KOVOROX SOUND. IT'S A SPLIT CDR WITH BIRCHVILLE CAT MOTEL.
3RD JANUARY 2007>>>

GIG!!!
BIRCHVILLE CAT MOTEL, RICHARD YOUNGS/ALEX NEILSON DUO, OPAQUE
TUESDAY 9TH JANUARY, 13TH NOTE, KING STREET, GLASGOW
8PM, £5.00
6TH DECEMBER>>>
KOVOROX SOUND PRESENTS...
PRURIENT (feedback shriek U.S.A)
SUDDEN INFANT (spasmodic gibbering Switzerland/London)
MONOTRACT (rhythmic frequency abuse U.S.A.)
HOCKYFRILLA (brain discharge electro-threat)
USURPER (minimal scrape/squeal)
KMVSNI (kylie minoise vs nackt insecten)
Wednesday 13th December, 13th Note, King Street, Glasgow, Scotland
£4.00 doors 8:30 first band 8:35!
21ST NOVEMBER>>>
HUGE APOLOGIES TO ANYONE WHO SENT ME AN EMAIL AND GOT NO REPLY. I JUST FOUND OUT THAT SOME EMAILS WERE NOT BEING FORWARDED TO ME DUE TO SPAM FILTER PROBLEMS. FROM NOW ON USE leacummings1@hotmail.com OR USE THE NEW LINK ON THE CONTACT PAGE...THANKS
GIG!
PIGSCUM, ZILLAH, THE MIRIMAR DISASTER, KYLIE MINOISE
23RD NOVEMBER
13TH NOTE, KING STREET, GLASGOW
20:30, £4
13TH NOVEMBER>>>
GIG!
KOVOROX SOUND PRESENTS...
THIRDORGAN, KYLIE MINOISE, NOMA, WOUNDED, KNEE
THURSDAY 16TH NOVEMBER, 13TH NOTE, KING STREET, GLASGOW, £4, DOORS 8PM
THIRDORGAN (japan) Since 1986 , Akihiro Shimizu under his Thirdorgan moniker has been a constant presence in the Osaka underground scene and a major player in the international 'noise' scene. His works have been finely honed over the many years and now stand alongside the refined power electronica surges of artists found on the Mego label, mid-period Merzbow or even early Sahko pulse & crunch overload. His works have turned up on 50+ labels including Harbinger Sound, Alien8, Ant-Zen, Chocolate Monk, Gross and Harsh Noise. He has worked with Masonna and Solmania and is most frequently now found collaborating with original Zeni Geva guitarist NP.This is the first date of a short U.K. tour and his first U.K. show for almost 12 years.
KYLIE MINOISE Indecipherable blasphemies, cuts and bruises, smashed microphones.
NOMA Textural razor drone
WOUNDED KNEE Electrohypnol damaged folk croonings.
http://www.ops.dti.ne.jp/~thirdorg/
http://www.myspace.com/kylieminoise
http://www.myspace.com/noma1
http://www.myspace.com/mrknee
10TH OCTOBER>>>
INSTAL THIS WEEKEND.
FRIDAY 13TH
OSHIRI PENPENZ,NMPERIGN+JASON LESCALLEET,ELLEN FULLMAN+SEAN MEEHAN,BLOOD STEREO+LUDO MICH
+
SHAREHOLDER+NIMROD33,KYLIE MINOISE,WOUNDED KNEE+NOMA, HOCKYFRILLA,JAZZFINGER, USURPER
FROM 7PM
SATURDAY 14TH
JAZKAMER,THE BOHMAN BROTHERS,KEIJI HAINO+TONY CONRAD, LETHE,LEE PATTERSON,STEVE BACZKOWSKI+RAVI PADMANABHA
+
OPAQUE,RED KITES,BEN REYNOLDS, POLLY SHANG KUAN BAND, BIRDS OF DELY+NACKT INSECTEN
FROM 4PM
SUNDAY 15TH
MARYANNE AMACHER,EYE CONTACT,KUWAYAMA+KIJIMA,ARRINGTON DE DIONYSO,SACHIKO,TETSUYA UMADA
FROM 4PM
THE ARCHES, GLASGOW
5TH OCTOBER>>>
GIGS!
REDRIGHTHAND, ARMY OF FLYING ROBOTS, KYLIE MINOISE, BLACK SUN, NACKT INSECTEN, BONG, FILTHY TURD
@THE COMMON PLACE, LEEDS, SATURDAY 7TH OCTOBER
+
DESTRUCTO SWARMBOTS, KYLIE MINOISE, BIG DIFFERENCE, BASTARDIZER
@THE CRICKETERS ARMS, SHEFFIELD, SUNDAY 8TH OCTOBER
20TH SEPTEMBER>>>
GIGS!
NOMA, VOM, OHHH!!!, DEAD OR AMERICAN
@13TH NOTE, GLASGOW, FRIDAY 22ND SEPTEMBER
+
SNOWBLOOD, KYLIE MINOISE, TAKE A WORM FOR A WALK WEEK
@13TH NOTE GLASGOW, SATURDAY 23RD SEPTEMBER
16TH SEPTEMBER>>>
GIG!
NOXAGT, KMVSNI, PROJECT VEN HELL, ACRNYM
@THE TUNNELS, ABERDEEN, TUESDAY 19TH SEPTEMBER
29TH AUGUST>>>
KYLIE MINOISE, MONOPOLKA, ANALOG SUICIDE RUSSIAN TOUR!!!
3RD SEPTEMBER - MONOPOLKA HEADQUATERS - ST PETERSBURG
4TH SEPTEMBER - LAPTITCH - NOVOGOROD
6TH SEPTEMBER - MAA661 - PETROZAVODSK
8TH SEPTEMBER - HOUSE GIG - VOLOGDA
9TH SEPTEMBER - JERRY RUBIN CLUB - MOSCOW
SUN 6TH AUGUST>>>
GIGS!
HAIR POLICE, TAURPIS TULA, KYLIE MINOISE
@BAR BLOC, GLASGOW TUESDAY 8TH AUGUST, FREE!
+
HAIR POLICE, HOCKYFRILLA, MUSCLETUSK, USURPER, KYLIE MINOISE
@HENRY'S CELLAR BAR, EDINBURGH WEDNESDAY 9TH AUGUST 7:30, £5
MON 1ST AUGUST>>>
GIG!
KOOL OUTDOOR GIG WITH BANDS PERFORMING ON A CONSTRUCTION BUILT BY ARTIST SCOTT LAVERIE... NOTE EARLY START...
KYLIE MINOISE, HOCKYFRILLA, USURPER, WOUNDED KNEE, BUFFALO BUFFALO BUFFALO
@YURTA, SCOTTISH BOOK TRUST, OFF ROYAL MILE, EDINBURGH SATURDAY 5TH AUGUST, 5PM - 8PM, FREE !!!
MON 24TH JULY>>>
GIG!
NACKT INSECTEN, MUTANT APE, CHILDREN, TETSUO
@13TH NOTE, GLASGOW, THURS 27TH JULY, 8PM, £4
TUES 18TH JULY>>>
GIG!
NOMA
@MCSORLEYS, JAMAICA STREET, GLASGOW, SCOTLAND, 30TH JULY, 7:30, FREE!
SAT 8TH JULY>>>
GIG!
KMVSNI (KYLIE MINOISE VS NACKT INSECTEN) , JULIUS SEIZURE , TETSUO , ARAKANYOMA
@THE TUNNELS, ABERDEEN, SCOTLAND, 11TH JULY
MONDAY 15TH MAY>>>15/05/06_
KYLIE MINOISE/BIRDS OF DELAY/KNIFESTORM U.K. TOUR !!!
Fri 19th May @ Matilda Social Centre, 111 Matilda Street, Sheffield - Kylie Minoise, Ashtray Navigations, Culver, Birds Of Delay, Sculptress, Stuckometer, Bologna Party, Unchained, Chora... doors= 6pm.
Sun 21st May @ The Telegraph, Orchard Street, Newcastle - Kylie Minoise, Birds Of Delay, Johnny Scarr, Knifestorm, Jazzfinger, Romance, Brothers Yemen, Culver...
Mon 22nd May @ The Fenton, Leeds - Kylie Minoise, Birds of Delay, Knifestorm
Tues 23rd May @ 31 Albert Road, Levenshulme, Manchester - Kylie Minoise, Birds of Delay, Knifestorm
Wed 24th May @ Raffles, Nottingham - Kylie Minoise, Birds of Delay, Knifestorm
7/04/06_
KOVOROX SOUND EUROPEAN TERROR!!!
APRIL 2006
KYLIE MINOISE/NACKT INSECTEN/NOMA/TEMPLE OF STATIC CHRIST
9TH - AMSTERDAM, NETHERLANDS/OCCII (w/1-SPEED BIKE)
10TH - PARIS, FRANCE/(tbc)
11TH - MARSEILLE, FRANCE/FESTIVAL ARTS é TERRORISMES pouvoirs domination PORNOSCHAMANISMES intolérances # 2
12TH - NANTES, FRANCE/BLOCKHAUS (w/PITA + Arnaud RIVIERE)
13TH - EINDHOVEN, NETHERLANDS/TAC
14TH - DEN HAAG, NETHERLANDS/SCSI-MORLOCK
16TH - ROTTERDAM, NETHERLANDS/DANCE SCHOOL
17TH - TIENEN, BELGIUM/DE LIVING (w/Jessica Rylan/Can't)
18TH - BRUSSELS, BELGIUM/L'ETRANGER, RADIO PANIK (radio session)
19TH - UTRECHT, NETHERLANDS/MOIRA
20TH - BERLIN, GERMANY/AUSLAND (w/EVIL MOISTURE)
22ND - COPENHAGEN, DENMARK/BROKEN NOSE FEST
23RD - BILLUND, DENMARK/LEGOLAND-SPONTANEOUS NOISE COMBUSTION!!!
25TH - BERLIN, GERMANY/SCHERER8
27TH - ZURICH, SWITZERLAND/KALKBREITESTRASSE 4
28TH - ULM, GERMANY/CLUB BETEIGEUZE
CHECK MYSPACE PAGES FOR MOST UP TO DATE INFO.
http://www.myspace.com/kylieminoise
http://www.myspace.com/nacktinsecten
22/03/06_
GIG NEWS!
VOLD'NUIT: one woman's sonic voyage to the space between sound and meaning
LAKE ME: battered blues rhythms for the new dawn
KMVSNI: kylie minoise vs nackt insecten!!!!!
live at STEREO, KELVINHAUGH STREET, GLASGOW, SCOTLAND, SATURDAY 25TH MARCH, £4.00, 8.30PM
04/03/06_
KYLIE MINOISE / WOUNDED KNEE / USURPER / D. ABRAHAM TURNER
Saturday 11th March, 13th Note, Glasgow ...Doors 8:30 / £3
A night of free noise, drones and psychedelic soundscapes from Beyond Good & Evil.
Kylie Minoise: Power-electronic klutz behaviour, indecipherable blasphemies, cuts and bruises by Kovorox head-honcho Lea Cummings. This solo venture from the man behind Opaque and Temple of Static Christ is an even more physical one than his other guises, all blood, spit, sweat and broken bones.
Wounded Knee: Playing his own kind of electronic and shroom damaged industrial folk, simple cyclical songs are looped and overdubbed with field recordings and delayed vocals. WK keeps one foot in traditional folk whilst clearly taking it well into the future.
Usurper: Nigh-inaudible free-noise on every day objects and disabled instruments by these Edinburghers with roots in noise/lofi units Giant Tank and Pizza Boy Delivery.
D. Abraham Turner: Glasgow based D. Abraham Turner spins an intricate web of drones and noises from his guitar run through a plethora of fx-pedals, treading the fine line between dissonance and harmony with beautiful results.
27/02/06_
LAST MINUTE SECRET GIG IN WEST END OF GLASGOW TONIGHT!!!
MONOPOLKA (RUSSIAN NOISE MANIAC)
KYLIE MINOISE VS TETSUO (HARSH TAG-TEAM AKTION ROUND ONE)
NACKT INSECTEN (NASTY LITTLE INSECT)
NOMA (TONES DRONES AND MOBILE PHONES)
CONTACT AL;- bringmecoffeeortea@hotmail.co.uk
29/09/05_be excited.....

Giant Tank and Wounded Knee's Lapsed Electronics have been asked to curate two nights of undiscovered free/ out noise/ improv/ whatever from Scotland to precede this year's Instal festival in Glasgow. The two nights take place on Wed 12th and Thurs 13th Oct at The Universal,
Sauchiehall Lane, Glasgow.
The actual Instal fest takes place Fri 14th - Sun 16th.
line-ups for fringe events are as follows....
Wed 12th Oct:
KYLIE MINOISE= Glasgow. power electronic klutz behaviour by Kovorox sound
head-honcho. bruised bodies and broken microphones.

NOMA= Glasgow. constantly evolving improvised music using guitar amplified
reclaimed consumer electronics.

SHAREHOLDER= Edinburgh. semi-spontaneously composed guitar
wanderings.

BOX VS. NIMROD 33= Dundee. progressive rhythmical guitar squall vs.
post-Highland discorporate dusk-jockey.

FRU= Edinburgh. beer and smoke befuddled drone/ delay efforts by
Pjorn 72 kingpin.
doors= 7:30pm (first act on at 7:45pm.). cost= £4.
Thurs 13th Oct:
OPAQUE= Glasgow. low-end drone guitarage army in praise of the open chord.

WOUNDED KNEE= Edinburgh. Cask-strength electrohypnol and shroom
damaged folk croonings by Lapsed Electronics empire
builder.

USURPER= Edinburgh. nigh-inaudible improv jams with disabled instruments
from the makers of Giant Tank and Pizza Boy Delivery.
CK DEXTER HAVEN VS. DORA DOLL= Edinburgh. sinewave manipulating Giant Tank-ette goes head-to-head with Decaer Pinga's first lady of noise.
DOWLING, MacGLONE, NICHOLSON, & CAMPBELL= Glasgow. free-playing quartet of sax/ bass/ cello /voice from The Glasgow ImprovisersOrchestra and Age Of Wire & String.
doors= 7:30pm (first act on at 7:45pm.). cost= £4.

16/09/05_
MUSIC FOR ONE, DEXTRO AND KYLIE MINOISE will be playing live at Stereo in
Glasgow on Saturday 24th of September.
06/05/05_
New OPAQUE album, 'CRUDE ENERGY AND THEN DINNER SCENES'
available now on Celebrate PSI Phenomenon. You can order this, as well
as other OPAQUE releases from KOVOROX SOUND.
28/11/04_
OPAQUE will play with SUNN O))), HOTOTOGISU and THEY LIVE
at Cabaret(formerly Old Vic) Nottingham, Tuesday 30th November.
09/11/04_
We'd like to thank all the promoters, everyone who gave us a place to stay
and everyone who came to see us on our European Tour. We had a fantastic
time. We'd also like to apologise for having to cancel the the last 2 gigs of the
tour(Arnhem and Hamburg). Murray badly hurt his back and could barely
stand up, nevermind play the one chord he usually does. We'll be back next
year.
10/06/04_
The wonderful New Zealand label Celebrate PSI Phenomenon (home of
Reynols, Birchville Cat Motel, Bruce Russell etc) will be releasing a
new OPAQUE album soon!
The CDLP will be called 'Crude Energy And Then Dinner Scenes'
More info soooon...
10/06/04_
Our friends BORIS, stunning sludgecore rockheads, have put a live
photo of OPAQUE on their website + some lovely photos of the city
commonly know as Glasgow. They ROCK........We ROLL!
OPAQUE are planning a European Tour in July.
Dates confirmed so far are:
Tue 6th - SCOTLAND - Subway - EDINBURGH
Fri 9th - NETHERLANDS - Onderbroek - NIJMEGIN
Sat 10th - NETHERLANDS - 2B - ZAANDAM
Sun 11th - GERMANY - Radio show Freundschaft - FRANKFURT - (9pm - 10pm)
Wed 14th - GERMANY - Kulturbunker Muelheim E.V. - COLOGNE
Thurs 15th - NETHERLANDS - Occii - AMSTERDAM
Fri 16th - NETHERLANDS - JcDeBakkerij - CASTRICUM
Sat 17th - NETHERLANDS - ACU - UTRECHT
Sun 18th - NETHERLANDS - White Space - THE HAGUE
Tue 20th - NETHERLANDS - Wohlfahrt - ROTTERDAM
Thurs 22nd - BELGIUM - Lokaa101 - ANTWERP
Fri 23rd - GERMANY - Kradhalle - ULM
Sat 24th - GERMANY - 11th Bleisound - MUNICH
Sun 25th - SWITZERLAND - tbc - ZURICH (tbc)
Wed 28th - GERMANY - Zakk Club - BREMEN
Thurs 29th - NETHERLANDS - Kultuurhuis Bosch - ARNHEM
Fri 30th - GERMANY - Hoerbar - HAMBURG
If anyone out there is interested in sorting out a gig for OPAQUE in Europe
please get in contact with us!
E-mail: j.l.cummings@amserve.net
_Exciting news! OPAQUE will be joined on most of their European tour
in July by Kosten Koper from Diskono who will be screening the film he
made (with artist Luke Fowler) about Xentos Jones from The Homosexuals:

Luke Fowler & Kosten Koper - "The Way Out, A Portrait of Xentos", 33min, UK
Commissioned by Cubit Gallery in London and screened at Venice Bienniale in
June 2004, this film is the result of a fraught and confrontational
collaboration between two Glasgow artists. Using an oblique collage style
methodology the film profiles an artist who personifies self imposed
obscurity. Through his early days as a member of art rock trio the
Homosexuals to current work with Die Trip Computer Die and Resonance FM,
Xentos has remained true to the punk rock ethic of erasing the past as you
go along. The film attempts to reveal yet at the same time conceal the
artist know as Xentos Jones.
Includes unearthed Super 8 films by Xentos, interviews with Bing Selfish, Ed
Baxter, Lepke B and music and sound from The Homosexuals, Die Trip Computer
Die, Xentos Jones Unstraments, L Voag et al
As well as showing his film Kosten will also be filming the whole OPAQUE tour for
a future OPAQUE LIVE DVD!!
It's gonna be good and it's all for YOU!
21/04/04_
Opaque would like thank everyone who sorted out a gig for them, gave
them a place to stay, and who came along to the gigs on their
recent UK tour!

_Opaque's new album 'We Took His Leg Out Into The Desert For A Wake'
CDLP is now available on Nidnod.
A monsterous, hysterical 1 track, 46 min epic! Check it OUT
_ A new OPAQUE noise release is now available on the crazy Russian
label (One Touch).
We've sold out of them but you can order them directly from Monopolka.
Check out their website for details.
18/03/04_
And here's another review of 'New Ways..'
"Fictitious fare from a duo blending as much Hendrix'esque voice-styled guitar
lines and crashing feedback as you can cram on to something this small. This is
the edge of avant-garde noise composition. The cut-n-past cardboard sleeve is a
cheerful f*ck-off to pop packaging in its black-n-white simplicity with bawdy titles
like "He should change his name to fucking Santa Claus" and "Three hours of
torment at the grubby paws". Part tongue-in-cheek though when it comes to the
music we are planted in the center of a chaotic swarm of freaked out toy-piano
strings and guitars gone insane. While maintaining a certain composure its hard
not to imagine this looking like a wildly fun mess on stage. It's got the hrmph of a
frat brawl while being a sophisticated blend of solid reverberating power."
Igloo Magazine (TJ Norris)
17/03/04_
Another new Opaque album is due out very soon on AudioLaceration

The album is called 'Weapon Bingo' and features nine bone fucking,
leg stretching, bargin basement tracks.
We will let you know as soon as it is available for minor consumption.
17/03/04_
Here are updated details of the OPAQUE tour in April
Confirmed dates so far are:
Thurs 8th - ABERDEEN - Dr Drakes
Mon 12th - NOTTINGHAM - Moog Cafe
Tues 13th - LEEDS - Termite Club
Wed 14th - SHEFFIELD - Other Music
Fri 16th - STOKE - The Talbot

31/02/04_Yet another cool review of 'New Ways' just in!
"Holy shit. Did they really make that sound using 2 electric guitars? This
is by far the best Opaque release to date. A swirling monster of a beast
that for some parts out does Solmania in the noise stakes. But it's not all
out war. Some tracks are featherlite rumble and flutter which makes for a
challenging listen and having just listened to this straight through twice
I can confirm that I was exhilarated and challenged in many ways. This is
the kind of record Derek Bailey would make if he drank a bottle of Wild
Turkey and screwed a fat chick in the ass first. A great big huge fat
monster of a record that I can never tire of listening to. Immense. I don't
know what it is they're putting in the tea round their house but I'm after
some. CD of the issue without doubt." IDWAL FISHER
05/12/03_
Another 2 reviews of 'New Ways..' just in..
"The most full and complete sounding Opaque release Ive heard yet. As a mere
two piece they manage to accelerate their sound and give it a bigger and louder
feel. Whoduthunkit?.......Well structured, well played, well recorded, this is the
Opaque album you should get. I expect the standard from them to be this high
from now on." TAPED CRUSADERS....For full review go HERE.
"NWTC" is bloody marvellous. It feels, amongst others, focused, crepuscular, tilted,
spacious, aggressive, warped, panic-stricken, uncontrollable, autumnal, claustrophobic,
damaged, refined, unknowable and totally immersive. Oh, and indefinable. Diversity!
Who'dve thunk 2 guitars could have sssttttttrretttttccchhheeedddd out so far?
Superbly sequenced; the clutch of miniatures in the middle of the running order feel
like particularly welcome trailers for films you actually care about, effortlessly building
the anticipation for the slow but unstoppable onslaught of the 2 "epics" which follow them.
I'm hugely impressed by it all but the exceptional grasp of dynamics in "..Suitcase" and
"..Town.." are particularly appealing right now." A.C INVERSION

26/11/03__
First review of 'New ways To Criticise' just in..

"Opaque is a band of extreme music, played on two guitars, feeding the sound
through a large amount of effect boxes, cooking up some extreme wall of sound.
It seems to me one guitarist plays the rhythm and the other is responsible for the
noise. Sometimes noise and rhythm go together very well and the result becomes
a closely interwoven pattern of sound. But this CD is more then just that. A track
like 'The Squalor And Intimacy Of A Man's Suitcase' starts out like a very free
improvisation play between two guitars before it explodes into a minimalist tinkling
of snares. You can hear that Opaque have been together for some time, and that
their sound is better worked out, a certain level of experience is to be heard.
Opaque crosses lines of Sonic Youth, Merzbow and Einsturzende Neubauten in
their duelling guitar world. Big leap forward here. " VITAL (FdW)

25/08/03__
You can now order Opaque/8M stuff with a credit card from anywhere
in the world thanks to the PayPal secure on-line shopping cart.

25/08/03__
Opaque's latest release which is available NOW is a collaboration
with electronic noise outfit This Is Not Red Paint and is on
the french experimental noise label Burning Emptiness.

OPAQUE RED PAINT
24/08/03__ MP3 clips of all available Opaque releases are now available.
01/08/03__
New Opaque album 'New Ways To Criticise' available soon.

This album is the culmination of a years worth of recordings and is
their most varied and challenging work to date. It is also their first
full length release as a 2 piece and sees them pushing the Opaque
sound into new, sometimes surprising sonic territories.

Limited to 500 copies, this CD will come in a unique cardboard
gatefold sleeve and will be a joint release by 8M and
CONSUME. More details available soon..